Zyxel eHomeShield secures every single device connected to your home network against cyber attacks.
Every new device in our home network is a potential back door into our digital lives. Since most new connected devices aren't designed to be secure, criminals can use these unsecure devices to access your home network, hijack your devices and steal your valuable data.
The broadband router or gateway is the front-door entrance to your cyber-home. And Zyxel eHomeShield creates a secure network in your home by putting protection inside this broadband gateway. Thus protecting you privacy and all your devices from desktop computers and phones to smart TVs, gaming consoles and baby monitors inside the home.
Zyxel eHomeShield is powered by F-Secure's SENSE technology. F-Secure is a cyber-security expert with over 30 years of industry experience. F-Secure's award-winning cyber security technology uses latest cloud-based AI technology working jointly with an agent inside your WiFi-router/gateway to block harmful traffic before it can harm you and your devices. Your privacy is protected from hackers, tracking companies and criminals that are after your private information.
Frequently Asked Questions

3 Solution Bundles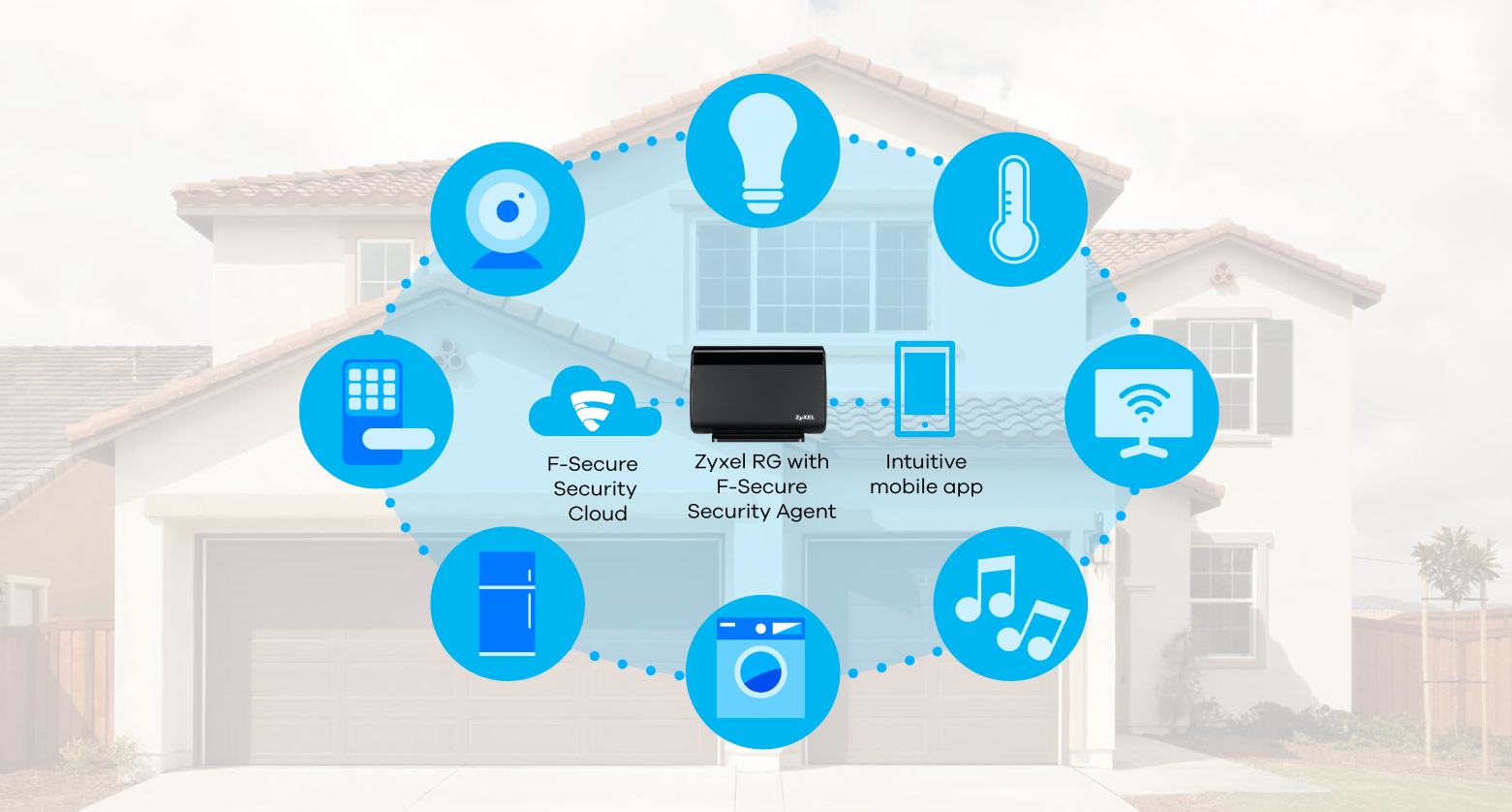 eHomeShield RG
Security for all devices
inside the home
Cyber protection for children
IoT security
Privacy Guard
eHomeShield
5on-the-go
eHomeShield
+
Plus 5 licenses to be used with any PCs, Laptops, Tablets or Smartphones

eHomeShield
10on-the-go
eHomeShield
+
Plus 10 licenses to be used with any PCs, Laptops, Tablets or Smartphones

Service Provider Benefits
Increase ARPU with security positioning protecting your customer's family at home and on the go
Differentiate with worry-free and holistic peace of mind positioning providing protection everywhere
Drive sales growth of smart/connected home devices with addressing security and privacy concerns
Reduce churn by enhancing your broadband/mobile offering with security to your end customers.
Brand positioning as the trusted secure provider in consumers everyday connected life